Alright, you asked for it.
Actually, nobody asked for this. (How weird would it be if somebody actually requested a list like this? Isn't it weird enough that I made one up?)
Okay. Here goes. Top 10 ways the senior canine you care for is not a far cry from a classic horror flick:

1. EXORCIST
She walks up to you from the other room (on all fours, of course) and pisses on the carpet, while staring you down.
2. THE SHINING
After dropping a doppelganger toy next to herself at the other end of the hallway, they both proceed to initiate penetration of your soul with their eyes, like deadsy-twins.
3. DEVIL'S REJECTS
Before you leave home, her "Bitch-where-you-think-you-going?" yap is as shrill as Sheri Moon's cackle.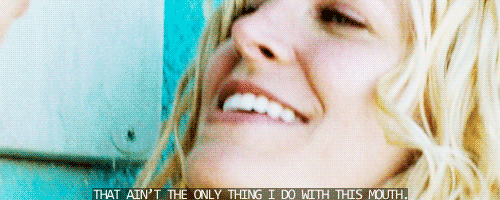 (You don't wanna know what else. But I'll tell you anyway in a moment).
4. THE SHINING. AGAIN
Upon returning, her "I-howled-the-whole-time-you-were-gone" bark sounds like the Redrum kid.
5. EVERY SUPERNATURAL EXORCISM AND ALIEN ABDUCTION MOVIE
Being woken every morning at the supernatural 3 AM hour to the putrid smell of… bark breath. In the face.
6. TEXAS CHAINSAW MASSACRE
A timeless,favorite pastime: donning remnants of dinner meat on her mug – like leatherface.
7. ALBERT FISH
So as not to waste any of that meat, she enjoys filtered leftovers – and dines on her own poop.
8. SIGNS
Like the Shamalamadingdong aliens, she's totally not a fan of ablutions and water immersion in general.
9. BLAIR WITCH PROJECT
Like the witch, she'll lure you far deeper in the woods than you'd care to go. (And like Blair Witch 2, once she's far enough out, she spins in circles a million times before getting down to bidnizz.)

10. NIGHTMARE ON ELM STREET
And, like Freddy Krueger, her claws –
Actually, no.
Krueger, you're cut. Sorry. We're going in a different direction for the role.
Remember retro mini-Dunst, a la Interview With A Vampire? And her hair? Like, she kept trying to frantically cut it off like some post-trauma protagonist in a Lifetime Original flick – but it'd keep growing back? Yeah.
I dunno about your dog, but my dog's nails are sorta like that. That shiz is full on Wolverine by time I turn back around from tossing the clippings I just chopped off.
Anyone have any additions?