Where the hell is spring?
Just kidding. It may not be leave-the-house-without-bringing-a-hoodie weather yet, but it's not too bad. Sun's out. Birds're chirping. Third graders are outside, proudly puffing cigarettes in front of passing cars.
S'nice.
Sorta reminds me of dreams I've been fostering through frost of winter: erecting a vegetable garden in my parent's backyard. It'd be something different, burn off some holiday adipose, and then help keep it off once I have a bunch of veges to pour into my belly. Naturally, though, I'm already having a cascade of cognitive covetous hypotheticals… over the fruits of my labor: "What if I do all the work? And no one helps me? And then they want to eat my vegetables? And then, like, mom tells me I have to share them? And throws a shovel at me? I guess I could just eat them all off the plants before anyone knows they're done. Right there in the garden. Allll mine".
It's like the Psycho Life of Walter Shitty up in here.
Obviously, I would share (a slice. Of one tomato. Maybe. If I'm full already). But I'm counting my eggplants before they hatch. Now that I've poured my crazy out, it's time to pore over some actual plant plans. Gotta grow them before I can decide whether to be benevolent with my lottery of leafy greens -or Scrooge McDouche. And where do we go to learn anything new? Do-it-yourself-TUBE, obviously (I'm too lazy to see if that's an actual channel, but it should be).
I was also too lazy to get up from the floor and turn up the sound for the "Plant a Vegetable Garden" video I encountered. But, someone once told me the "the divine truth is within you". And what's more divine than a gardening guidlines? Thusly, I utilized my god given insight to extract context clues. Then I screen capped the key steps. And now I'mma share 'em with you! Okay. Here goes:

STEP 1: ACQUIRE A PET RABBIT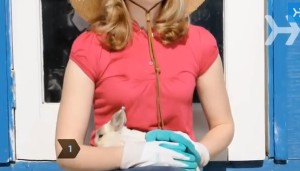 He serves several purposes:
– When you eat all the veges 'cause you're selfish, deny it. Say he ate them.
– When you fail to grow anything this year, deny it. Say he ate them.
– When you fail to grow anything next year, eat him.
#broiledBrehr
STEP 2: ASK A MAN TO HELP YOU WITH THE HARD STUFF

Then look down on him as he toils, and remind him he's doing it wrong.
He might deny it. But inside, he'll always question himself.
This will make him work harder and your garden get done quicker.
(Protip: make sex seem like a plausible prospect. That way, he'll keep putting up with you coaching from the shade.)
STEP 3: SAW OFF HIS LEGS

We need this thing built yesterday and he wants to take a break?!
Ain't nobody got thyme for that.
Back to work, buddy.
STEP 4: PRESS ON AFTER HE PASSES ON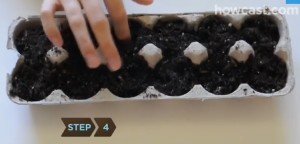 Now that Friendzone Frank has bled out, you'll just have to go it alone. Inconvenient, I know. Luckily, in step 4 they show you how to grow eggplant. Just plant soil in a carton that held the eggs. Boom. Should be ready in a week.
STEP 5: PUT A TREE IN YOUR GARDEN, APPARENTLY

Or "herbaceous" plant. Either way, I feel like she's not sweating enough to be in a climate that'll support a banana plant.
Also, bananas are totally vegetables.
STEP 6: PEAS OUT

Well, not one of the dozen eggplants sprouted, the rabbit ran off, and the banana peel you planted failed to render phallic fruit of any sort. You're obviously a failure who's going to starve to death. Time to finish off grandma's leftover Oxycontin and lay down next to what's left of Frank. (Or was it Fred?)
THE END.
Ah, critical thinking is rewarding!
That was really super helpful. I dunno about you, but I'm totes inspired now. Let's grow shit together- like e-gardener pen pals!
Go, team, GROW!